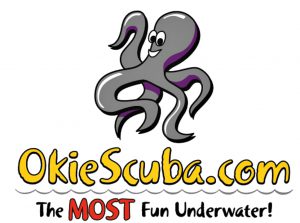 Okiescuba Merchandise!
While we don't sell many things, we are proud of our logo and mascot, Otto.
Otto is modeled after a real octopus Okiescuba founder Rick Couri discovered and visited for several years just off Catalina Island, California. While on a dive on a site called Blue Car Wreck on the island's east end, Rick spied a small pile of shells piled outside a very small opening in some rocks. Knowing octopus love to snack on crustaceans, Rick settled down near the hole and waited. Within a few minutes the small cephalopod popped up his curious head to see who his visitor was. Rick stuck out a gloved hand and after a few minutes of checking it out, Otto came out of his hole to visit.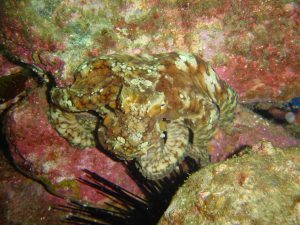 When Rick finally got cold he returned to the boat and told everyone about his new dive buddy. Over the next three years when Rick visited Catalina, he went back to see if Otto was still living in his stone condo. He was, and the two continued to spend time together beneath the waves. Alas, four years later, Otto was gone. We like to think he went off to a bigger and better den, and still look for him yearly but so far, no sightings. That's him in the picture on the left.
When Rick, Christine, and Gary decided it would be nice to have a logo, Rick immediately thought of Otto and a mascot was born. We now sell t-shirts, hoodies, zip hoodies, hats, tanks tops, and thermal mugs with our smiling little friend proudly featured! Let us know if you want to get on-board and celebrate Otto with us like some of our friends and dive buddies below!
Hoodies!
Both Pull-over and Zip Available
Hoodie:   S-XL $19.00 (2X+ $24.00)
Zip Hoodie: S-XL  $30.00 (2X+ $34.00)
T-Shirts & Tanks!
Imprinted with our full color logo!
T-Shirts: S-XL $14.00 (2X+ $15.00)
Tanks Tops:  S-XL $12.00  (2X+ $14.00)
Hats!
Classic adjustable fit ball cap!
Available is several colors!
Hat: (One Size fits all) $13.00
Our Merchandise in Action!