Tony Porter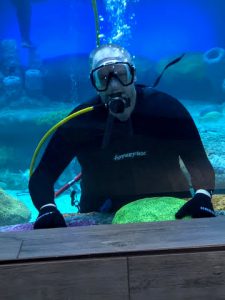 Divemaster
 Why did you become a diver?  
 I was always interested in it but just never felt like I would ever be able to do   it. I did a Discover Scuba in Cozumel on a cruise and was hooked.
 When did you become a diver?  
June 2017
 When did you become a professional diver?
April 2018
 What made you want to teach diving?
I enjoy sharing my love of scuba with others.
 What is your favorite part of teaching a scuba class?
Seeing people that have difficulties with some of the skills finally conquer   those skills and surprise themselves and excel as a diver.
 Where is your favorite place in the world to go dive?
Haven't been too many places yet but so far Cozumel was my favorite.
 What is your favorite local dive?
I really enjoy Tenkiller Scuba Park. There are tons of fish that really like to be   fed. Feeding the fish there is what got my wife to try scuba.
 What kind of gear do you use?
BC  ScubaPro Hydros Pro
Reg ScubaPro S600 
Mask  Tusa  Freedom Elite
Fins Tusa X-Pert Zoom Z3 Split Fins   
Computer  Mares Quad
 What is your favorite after Dive meal?
Fried Zucchini from Soda Steve's
 Where's that one place in the world you haven't been that you would   love to go dive?
Great Barrier Reef, Australia
 Why do you enjoy teaching with Okiescuba?
It is a wonderful group of people to work with and their teaching style and   welcoming attitude is great. I consider myself lucky to be a part of this   organization.