Christine Couri
PADI Assistant Instructor
Why did you become a diver?
The adventure of doing something different and new. Always enjoyed the water, and thought it would be a fun thing to do with my husband.
When did you become a diver?
During July of 1994. We did our pool dives at LaFortune on a Sunday morning, and our lake dives near Gene's dive shop on Lake Tenkiller.
When did you become a professional diver? 
After Rick! We decided that working together would be a good way to spend the weekend.
What made you want to teach diving? 
Had always enjoyed my experiences diving, and after having Rick and good friends become instructors, I wanted to join in on the fun!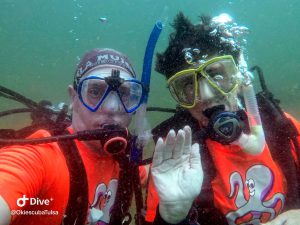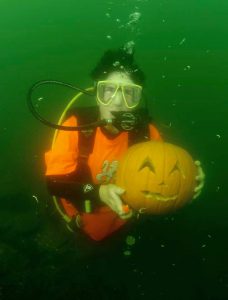 What is your favorite part of teaching a scuba class? 
Getting to know so many new people, and helping them progress from newbies to full fledged divers.
Where is your favorite place in the world to go dive?
Picking favorites is always hard for me! Every place I have dived has had its own appeal.
What is your favorite local dive? 
Beaver Lake. No doubt I enjoy the better visibility, and the area we dive is so familiar to me.
What gear do you use?
BC                  Seaquest
Reg                Atomic B1-T2
Mask             TUSA old style
Fins               TUSA split fins
What is your favorite after Dive meal?
Totally depends on where I am, but I always have a BIG meal wherever we are!
Why do you enjoy teaching with Okiescuba?
The people. Our great staff and students make it easy.
What was your biggest rush in diving?
Two come to mind. A wreck dive in the Keys with Captain Jeff and a huge Manta ray in the Flower Gardens.
Where's that one last place in the world you haven't been that you would love to go dive?
The Red Sea, the colors seem unreal in photos, would love to see them in real life!