Cindye Porter
Dive Master
Why did you become a diver?
After hearing my husband and son talk about diving, I wanted to be able to do it too. Plus, I wanted to feed the fish.
When did you become a diver?
June 10, 2018
When did you become a professional diver?
October 15, 2019
What made you want to teach diving?
I enjoy helping others learn to dive and in turn, it helps me become a better diver.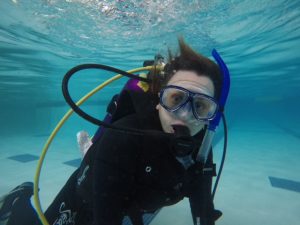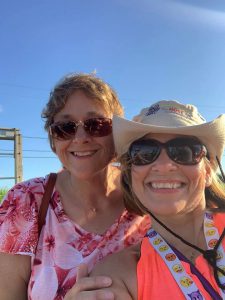 What is your favorite part of teaching a scuba class?
Seeing someone with real fears and anxieties overcome those and ultimately conquer to get their certification. Then to see that student go on and  achieve higher certification is just an added bonus.
Where is your favorite place in the world to go dive?
So far, The Flower Gardens. Haven ' t been anywhere else yet. Keyword – YET.
What is your favorite local dive?
Tenkiller Scuba Park
What kind of gear do you use?
BC  Aqua Lung Soul i3
Reg  Oceanic
Mask  Tusa
Fins  Tusa Split fins
Computer   Mares Quad
What is your favorite after Dive meal?
Fried zucchini at Soda Steve's
Where's that one last place in the world you haven't been that you would love to go dive?
Roatan
Why do you enjoy teaching with  Okiescuba ?
This is a great staff of people. We are all like a big family.