How it works
We make learning to dive easy!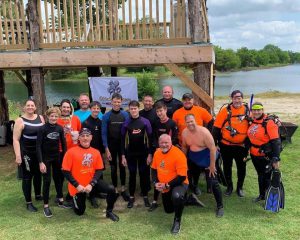 We'll begin by delivering a set of materials called a crew-pak. Once you have the materials in hand and make your initial payment, you're officially an Okiescuba student! Inside the package you'll find everything you need for your classroom session plus a student folder, dive log, dive table, and other goodies. The first order of business is filling out the student folder with special attention to the PADI medical questionnaire on the inside. Each question must be answered with either the complete word "yes" or "no." 
A "yes" answer to any of the questions means you must have a doctor sign a PADI medical release clearing you to undergo training. We must have the released in our hands before you are allowed to do any training in the water.
THIS RULE CANNOT BE VIOLATED.
You can download the medical on the forms page under the resources tab on this site. Fill it out, take it to your physician, and have them sign it. More than 99% of the candidates requiring a release are OK'd by the doctors, so don't worry! You can begin your classroom training without a release.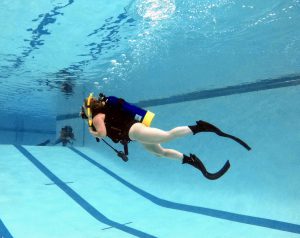 When it comes to scheduling your classes, we have a different philosophy than most. In this busy world we live in, very few of us have the time to "fit into" someone else's schedule. So, we don't ask you to do that, we fit into yours!  OkieScuba.com LLC can arrange to do your class just about any time you want it. Need a class on a weekday at noon, we'll do it. Prefer a weeknight session, that's fine with us. Need something on the weekend, we're there.
And we do it all AT NO EXTRA CHARGE.  We just think it's the right thing to do.
A typical classroom lasts about three hours but keep in mind every situation is unique. Pool sessions normally take three-four hours. We use several excellent confined water facilities around Tulsa.
  Our final training takes place in open water. We typically use Lake Tenkiller in Oklahoma or Beaver Lake in western Arkansas. There are other options for open water sites and we are more than willing to work with you if you have a special request. PADI requires two lake sessions over two separate days. Each day lasts about three hours from start to finish.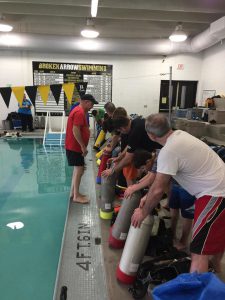 At OkieScuba.com LLC we think we are the best source for your underwater adventure and education, so let us tell you why.
Safety. Your safety and that of your friends and family come first with us. Everything from the maintenance on the equipment you use to the choice of the dive sites we visit is taken into consideration. From your first classroom experience to your final certification dive, we make sure you are safe and comfortable.
 Fun. If it's not fun, don't do it. That is our philosophy on diving and we extend that to your training. Yes this is serious business but we promise to make you smile along the way as well.
 Convenience. Because we work around your schedule, we make it easier for you to complete your certification. And we do all AT NO EXTRA CHARGE.  We just think it's the right thing to do.
Adventure. Now there is a word that has a different meaning to just about everyone. The beauty of diving is that your level of adventure is up to you. You can be as calm as hand feeding the small colorful fish in the Caribbean. Or you can get the thrill that comes when you hover weightless as a 50-foot whale shark glides by. There are few feelings in the world that compare with watching an octopus scurry across a reef or seeing a manta ray turn perfect circles in the water in front of you. When it comes to diving you really can "have it your way."
Have questions about learning to dive?
Use the form below to contact us TODAY to find out more!